Our Life By Design Challenge for July has been to Get Your Weekly Dose Of Vitamin N… How did you do, btw?  I upped the ante a bit and challenged myself to explore at least 1 new trail each week… And I made it to 7!
For a complete list of the best, family-friendly Kanata trails, check out this post!
The Best Gatineau Park Trails
Normally I get my Vitamin N playing across the Ottawa River in Gatineau Park and I'm often asked "What trail should I do?"
And I get it: If you're going to pile the kids in the car or convince your friends to make for a hike drive to Gatineau Park, you definitely want to plan for the best trail given your requirements…  To avoid the meltdowns and extended piggy-back rides that come from choosing the wrong trail.
To help with that, I've given you 3 from each category including Easy, Moderate and Difficult.
The Best Gatineau Park Trails – Easy
Trail #1 (Chelsea)

This is a beautiful, wide-track trail perfect for young kids, strollers etc.  I personally like this section of Trail #1 because its super easy to access, has ample free parking and has picnic areas at both ends!
You can also park at the Penguin Picnic area however I definitely encourage you and the kids to walk it! Alternatively park at the Penguin end of this section and continue west on the #1 which rises steadily and passes the Skyline Trail (featured below).
King Mountain
King Mountain is undoubtedly one of the 'best bang for buck' of the Gatineau Park trails…  Short – under 2km – with some relatively easy climbing (some stairs involved) lots of greenery and a spectacular view from the top!
It's definitely a favorite for many people… which means it can get pretty busy on weekends and holidays.  Still, it's worth it for the relative immersion in nature:)
Lauriault Falls Trail
One of the benefits of all this rain has been how full the streams are in Gatineau Park!  This makes for awesome waterfalls and there's none prettier than at Lauriault falls.  Don't stop exploring there though…  Be sure to do the 3km Loop as you'll be rewarded with an amazing lookout onto the valley of farmland west of the park.
Several parking options are available but in my experience the 2nd parking lot off Promenade Champlain is usually less busy.  From there do the loop counter-clockwise.
The Best Gatineau Park Trails – Moderate
Pink Lake
Pink Lake trail is one of the most heavily trafficked trails in the park from young families to the seasoned trail runner…  It's only a short trail @ 2.1km and easily walked in 30-45min however I've put it in the 'moderate' category because of all the stairs – Definitely a good thigh burner!
The best part about this Gatineau Park Trail is how close you stay to the water's edge and the amazing colors changes of the lake depending on the angle of sunlight. I particularly love this trail in mid-late October as the viewing platforms provide the most spectacular scene of fall colors. 🙂
Healy Shelter/Trail 70
Healy Shelter Trail is a bit longer @ 7.4 kilometers however it is almost entirely flat, mostly wide and hard-packed trail.  It features several marshes, a small lake, 2 cabins complete with picnic areas, camp toilets and cabin for escaping the rain (or flies!)
In other words, perfect for the whole family or you can leave the kids at home, bring a picnic with a bottle of wine and enjoy the peace and quiet… Either way you win!
This trail is also popular with mountain bikers and would be a great beginner mountain bike trail, especially for kids!
Skyline Trail
This 5.5km trail has several incredible views facing south east back toward the city, giving the trail its name. Keep these lookouts in mind as a reward for the the relatively steep start to the trail that will get your heart rate up a bit.
The easiest access point is from P7 parking lot off Kingsmere Rd however take a close look at the map (snap a pic and save to your phone to be safe) – to access the trailhead for Skyline/Trail #6 you need to follow trail #30 before jumping onto the #1 for ~100m.
The Best Gatineau Park Trails – Difficult
Lusk Cave Trail

Make sure to pack your headlamp and old sneaks because clambering through Lusk Cave is one of the quintessential experiences in Gatineau Park.  Don't worry, it's not as scary as it sounds and is appropriate for most kids 8+.
For the best day trip do this:  Park at Parent Beach just inside the park gates ($11 for the day) and leave your picnic and swimming stuff in the car.   Hike the full length of Lac Philip and cut up to the caves and explore.  It's about 4km in and you can choose to do one of the shorter loops back (~8.5km), Or make it a more challenging hike and do the full loop like this screenshot: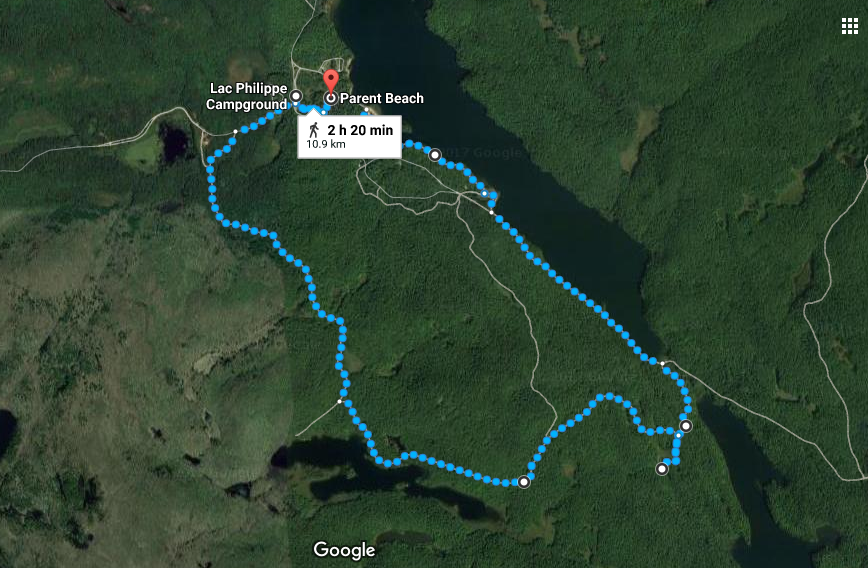 the best part is the cool, refreshing Lac Philip is waiting for you and there's plenty of space to set up a picnic and enjoy the afternoon!
Luskville Falls

Although its a short one, Luskville Falls trail is one of the more difficult in Gatineau Park due to its steep ascent.  The climb is definitely worth it (who doesn't like a good sweat?!) for the amazing panoramic views along the way up.
At the top there's lots of exposed rock to rest on, have a snack and take in the view.  You can also continue along to the Luskville Fire Tower although its a bit underwhelming to be honest…  Take it or leave it:)
From the same parking lot there's also a shorter easier walk (heads northwest) suitable for strollers etc so if you have kids of various ages you can divide and conquer as appropriate.
Wolf Trail
I saved the best for last…  My favorite trail in the park because it has a bit of everything while still being super easy to access.  Challenging ascent, lots of streams and small water falls, amazing views (the only trail to my knowledge where you get both an east and west facing view!)…
Not to mention it shares a parking lot with one of the small beaches on Meech Lake so you can have a delicious swim in the refreshing water to soothe your likely wobbly legs:)
There's also a bunch of different options to turn this into a full day hike by tagging on any number of trails.   Comment below and I can share some ideas!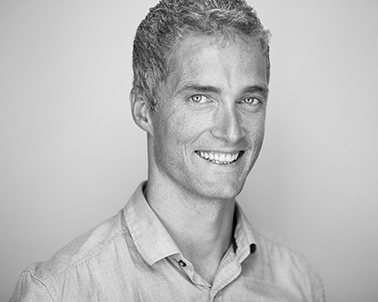 Dr. John MacPhee
is a Chiropractor, speaker and passionate health and wellness expert. He has inspired thousands of people to take control of their own health using the Life By Design method. Dr. John is co-owner of
The Wellness Group
, the largest Life By Design Certified Chiropractic office in Canada. Apart from full-time practice, John maintains a busy speaking schedule, with a particular emphasis on improving productivity and focus at work. Otherwise, you can find John training hard at CrossFit 613, exploring Gatineau Park, or holed away studying the latest research at various cafes across the west end.