Beef Bourguignon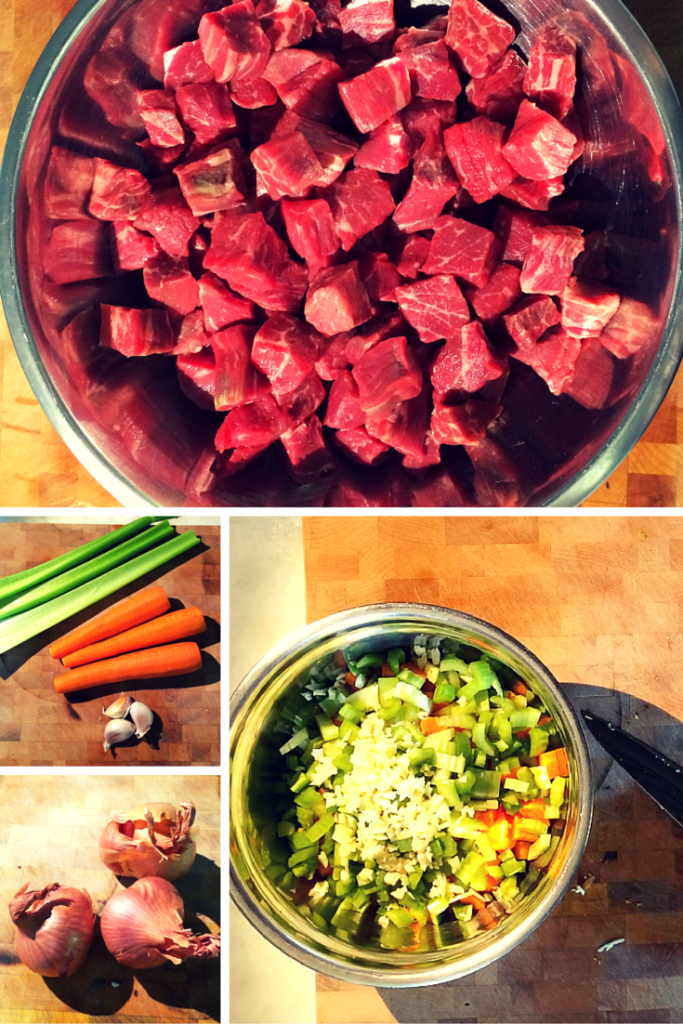 Tools
1 large non-stick pot with lid (*I use a Le Creuset cast iron non-stick pot)
1 large pan
1 small pot
Ingredients
2 teaspoons sea salt
2 ½ lbs stewing beef, diced in cubes
2 tablespoons butter
3 celeri stalks, diced in small cubes
3 carrots, peeled and diced in small cubes
3 garlic cloves, chopped finely
3 shallots, chopped finely
salt & pepper to taste
2 ¼ cups of beef stock
1 cup of vegetable stock
1 ½ cup of red wine (cabernet or merlot works best, but any red wine is fine)
1 can of tomato paste
2 cups small white onions
8 slices of bacon, diced
1 8oz package of mushrooms, sliced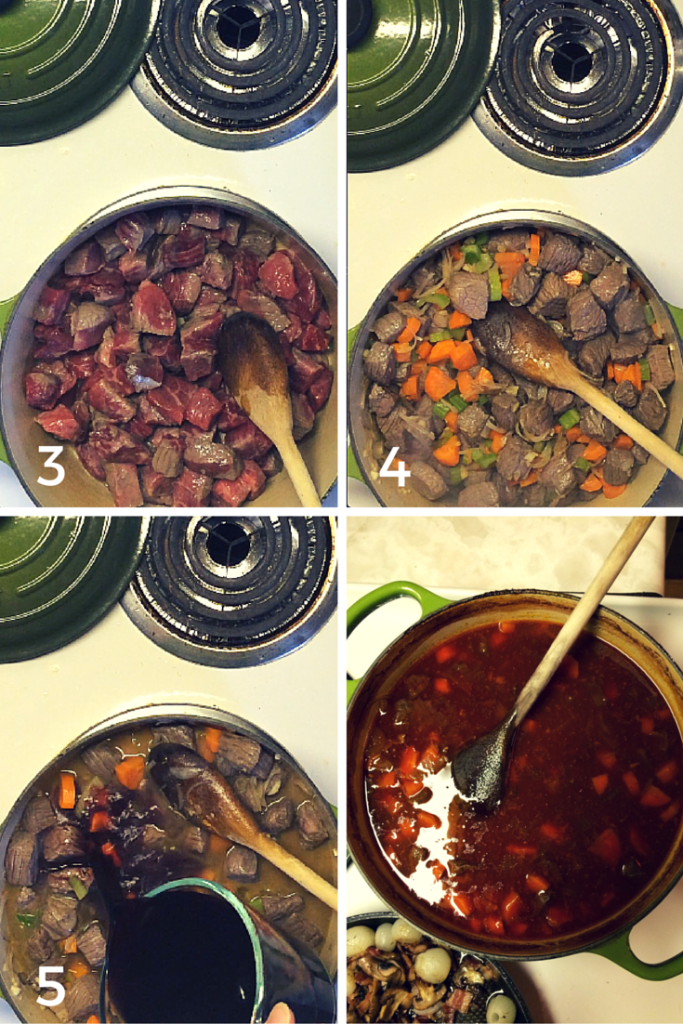 Preheat oven to 350˚F
In a large bowl, mix the beef with the sea salt, and put aside.
In a large non-stick pot, melt butter, and brown the beef cubes (high heat). Don't cook the meat thoroughly.
Add the celery, carrots, garlic and shallots. Cook for 5 minutes. Add salt & pepper.
Add the stock, red wine and tomato paste. Mix well, put the lid on, and cook in the oven for 2 hours.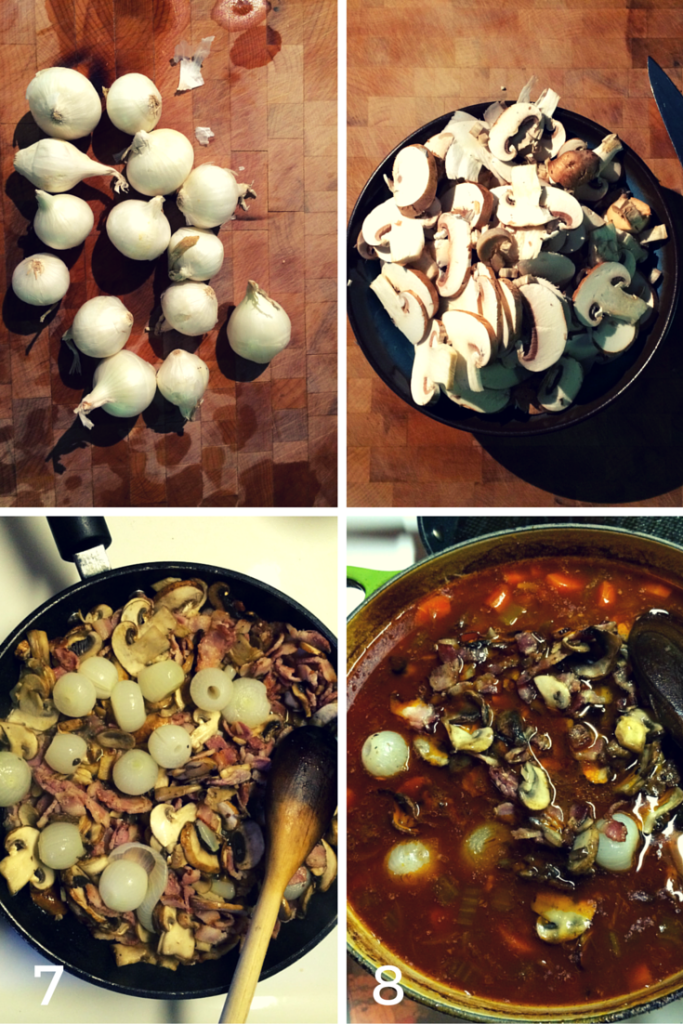 Meanwhile, fill a small pot with water, and bring to boil. Add the white onions, cook for 3 minutes, and empty the water. Let the onions completely cool down before removing the skin.
In a large pan, cook the bacon over medium-high heat. Halfway through, reduce heat to medium, and add the mushrooms and the white onions.
After 2 hours, add the bacon mixture to the beef pot, and cook for another 30 minutes with the lid on.
Serve with your favourite salad and parsnip puree.
Serves 6
Time Saver Tips
Process garlic + shallots in a food processor until chopped finely
Blitz celery + carrots in a food processor until diced in cubes
Prepare and cut vegetables a day ahead to save more time
Options: you can add 2 medium potatoes, peeled and diced, with the celery and carrots if you want a more starchy texture.
Parsnip Puree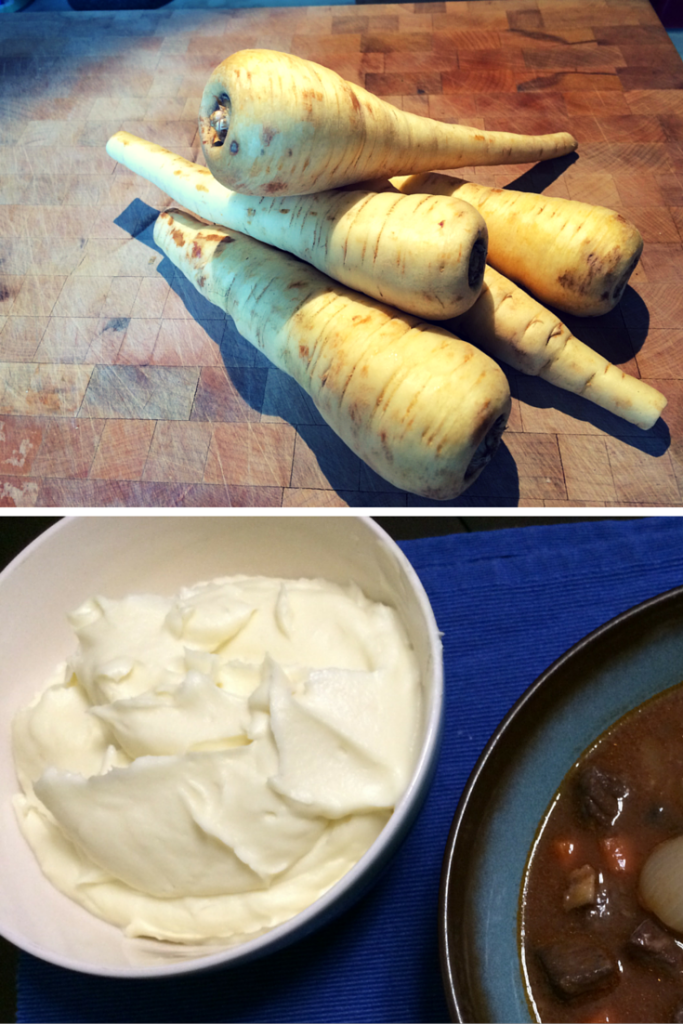 Tools
1 medium pot
Ingredients
6 medium-large parsnips
¾ cup heavy cream
1½ tablespoon of butter
sea salt & pepper
Peel the parsnips, remove the ends, and cut in large pieces.
Fill a medium pot with water, put the parsnips in, and bring to boil. Cook the parsnips until tender. Discard the water.
In a high speed blender, blend the parsnips, butter, heavy cream, and salt & pepper on high speed. Blend until smooth.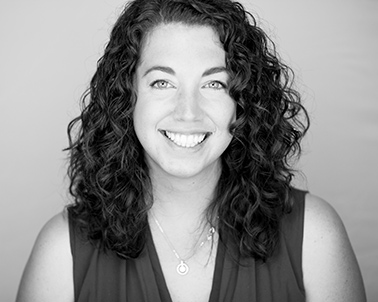 Dr. Stephanie Deschenes is a compassionate Chiropractor, speaker and consumer of all things health, nutrition and fitness. While watching her family's health deteriorate in her teens, she decided that wasn't going to be her future and set out to learn exactly what is required to be truly healthy. This passion led her to Chiropractic and ultimately to establishing her practice at The Wellness Group in Kanata, ON. She loves working with families, with a special focus on helping moms understand how simple it is to get the health they've always wanted for themselves and their families. Drawing from her own experience overcoming health challenges and her thirst for knowledge, Dr. Deschenes is the perfect fit to help transform your health from the inside out.